Adult Learning in Suffolk
With 30 years' experience of delivering government funded adult learning opportunities in the community and with the community, we know how to deliver courses that are tailored to meet individual needs. We offer a wide range of courses from improving English/Maths/ICT/Vocational skills to supporting children in their learning or improving your wellbeing. Many of these courses lead to recognised qualifications.
Our Learning Centres
We have a wide range of courses to support you in life and work provided by our learning centres across Suffolk in Ipswich, Bury St Edmunds, Stowmarket, Lowestoft and Newmarket.
Course Fees
Many places on our courses are FREE so please contact us to see if you are eligible. Alternatively you can pay online.
Here is a taste of what you can learn:
Essential Skills:
English
Maths
English for Speakers of Other Languages
Computer Skills for Beginners
Computer Skills for the Office
ITQ Fast Track
Skills for Work:
Counselling
Childcare
Adult Social Care
Customer Service
Business & Administration
First Aid at Work
Health & Safety in the Workplace
A Helping Hand:
Stay Safe on the Internet
Computer Clubs
Confidence & Wellbeing
Stress Management
Living with Children
Confident & Assertive Parenting
Download a course brochure:
---
Walk-in Advice & Guidance
If you have a Learning Disability and/or Autism, we can provide advice, guidance and information on:
Housing
Benefits
Money
Safety
Bills/Letters
Contact us to find out more: info@realisefutures.org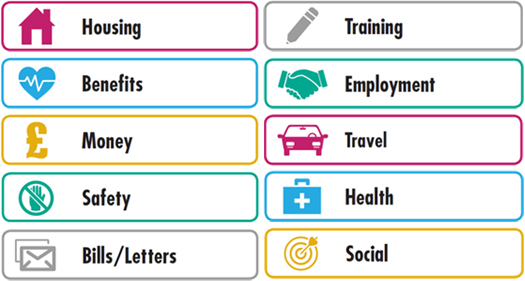 Sessions near you
All Walk-in Advice and Guidance services are currently being delivered face to face, but by appointment only.
South Suffolk:
IPSWICH
Pemberton House, Curriers Lane, Ipswich, IP1 2AQ
Day: Every Monday  Time: 13.30 – 16.30
WOODBRIDGE
Woodbridge Library, New Street, Woodbridge IP12 1DT
Day: First Tuesday of the month  Time: 10.00 – 12.00
MELTON
Poppy's Pantry, The Sidings, Wilford Brisge Road, Melton, IP12 1TB
Day: Second Tuesday of the month  Time: 09.30 – 11.30
IPSWICH
Gainsborough Library, Clapgate Lane, Ipswich IP3 0RL
Day: Second Wednesday of the month  Time: 9.30 – 11.30
HADLEIGH
Hadleigh Library, 29 High Street, Hadleigh, IP7 5AG
Day: Last Wednesday of the month  Time: 10.00 – 12:00
FELIXSTOWE
Felixstowe Library, Crescent Road, Felixstowe IP11 7BY
Day: Thursday  Time: 10.00 – 12.00 
Contact: Rebecca Webb-Heath 07753447607
Mid/West Suffolk:
SUDBURY
The Christopher Centre, 10 Gainsborough Street, Sudbury CO10 2EU
Day: Every Monday  Time: 10.00 – 12.00
NEWMARKET
Foley House, 52 Wellington Way, Newmarket, CB9 8HB
Day: Tuesday  Time: 09.00 – 11.30
HAVERHILL
The Haven Café,  Camps Road, Haverhill, CB9 8HB
Day: Every Wednesday Time: 10.00 – 12.00
BRANDON
Brandon Library, Bury Road, Brandon IP27 0BQ 
Day: Thursday  Time: 1o.00 – 12.00
STOWMARKET
Realise Futures Learning Centre, 27 Ipswich Street, Stowmarket IP14 1BB
Day: Every Thursday  Time: 10.00 – 12.00
MILDENHALL
Mildenhall Hub,  Mildenhall Library, Sheldrick Way, Mildenhall, IP28 7JX
Day: Friday Time: 09.30 – 12.00
Contact: Emma Croker 07738704724 | Sam Boulton 07592382957
North Suffolk:
LOWESTOFT
Navigator, Lowestoft Library, Clapham Road South, Lowestoft NR32 2DR
Day: Monday to Thursday  Time: 10.00 – 12.00
BECCLES
Beccles Library, Blyburgate, Beccles, NR34 9TB
Day: Friday  Time: 13.00 – 15.00
BUNGAY
Bungay Library, Wharton Street, Bungay, NR35 1EL
Day: 1st and 3rd Friday of the month  Time: 9.00 – 12.00
HALESWORTH
Halesworth Library, Bridge Street, Halesworth IP19 8AD
Day: 2nd and 4th Friday of the month  Time: 9.00 – 12.00
Contact: Debbie Ellis 07738704732
---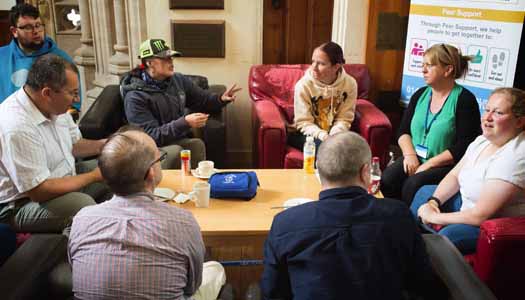 Groups near you:
South Suffolk
FELIXSTOWE
Caffe Nero, 59 Hamilton Road, Felixstowe, IP11 7BE
Day: Every Other Tuesday Time: 14.00 – 16:00 
WOODBRIDGE
Realise Futures Pop Up Café, St Mary's Church Centre, Woodbridge
Day: Last Tuesday of the Month Time: 10.00 – 12:00
IPSWICH
St Lawrence's  Café, Dial Lane, Ipswich, IP1 1DJ
Day: Every Thursday Time: 14.00 – 16:00
(please bring money for refreshments)
IPSWICH
The Key Café, 15 St. Margaret's Plain, Ipswich, IP4 2BB
Day: Every Friday Time: 10.00 – 12:00
West Suffolk
BURY ST EDMUNDS
So Bar, Langton Place, Bury St Edmunds, IP33 1SJ
Day: Every Monday Time: 14.30 – 15:45
BURY ST EDMUNDS
Shuffle Café, St Andrews, Street South, Bury St Edmunds, IP33 1SQ
Day: Every Monday Time: 14.30 – 15:45 
HAVERHILL
Route 66, 42 High Street, Haverhill, CB9 8AR
Day: Every Wednesday Time: 13.00 – 15:30 
STOWMARKET
The Willow Tree, 101-103 Ipswich Street, Stowmarket, IP14 1BB
Day: Every Thursday Time: 13.30 – 15:30 
SUDBURY
The Lady Elizabeth, 7 Market Hill, Sudbury, CO10 2EA
Day: Every Friday Time: 10.00 – 12:00 
North Suffolk
Peer Support – People Helping People
Do you have a learning disability and/or autism? Do you want to meet people in your local area?
Our dedicated team members support people with learning disabilities and/or Autism to set up social groups with like-minded people in their own communities. Participants share their experiences, interests and discuss their future ambitions. Information, Advice and Guidance is provided on topics ranging from budgeting to career and training opportunities
Through our Peer Support Groups, we help people to get together to:
Support each other
Realise Futures ​support people ​with Learning Disabilities and/or Autism, to set up Peer Support across Suffolk.
Share your experiences
At the groups people ​share their experiences, ​talk about the things in life that matter to them and support each other.
Make new friendships
Being part of a Peer Support Group is a great way to make friends and become more confident!
Be more confident
People might start a group because they enjoy doing the same activity, for example, gardening, or music.
Get out and about
Sometimes groups might choose to go out on a trip, explore the local community, or use the meetings for something like training.
Contact us to find out more: info@realisefutures.org
Covid-19 update: Peer groups are now up and running but are being held outside until 17th May until being resumed indoors.

South Suffolk
Rebecca Webb-Heath: 07753 447 607
Mid/West Suffolk
Emma Croker: 07738 704 724
Samantha Bolton: 07592 382957
North Suffolk
Debbie Ellis: 07738 704 732
---
Coaching Services
Multiply Suffolk is here to deliver bespoke coaching, training and mentoring to support you into learning and employment across Suffolk. Multiply Suffolk will provide opportunities for you to improve your knowledge, understanding and use of maths in daily life: at home, in learning and in work.
Our dedicated team of Coaches offer support to participants, helping to set personalised training and employment related goals. Bespoke opportunities are sourced that increase confidence and remove barriers for individuals to take the next step into a more meaningful future.
We can help by:
Supporting to engage with education, employment and training
Improve numeracy, money management and budgeting skills
Promote independence, choice and wellbeing
Empower you to remove barriers to employment and gain a numeracy qualification
We can help if you:
Are aged 19+
Live in a Suffolk postcode area
Do not hold a Level 2 qualification or above in Numeracy (GCSE or Functional Skills)
Email: coaching@realisefutures.org
Telephone: 01473 275957
If you would like to refer into Multiply Suffolk please register your interest by contacting multiplysuffolk@suffolk.gov.uk or visit Multiply – Learn Suffolk for more information.