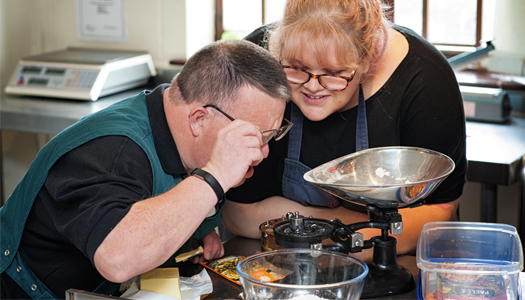 RF WORKS – How does it work?
WORK:
At RF WORKS sites you can gain real experience in a range of supportive settings from retail to catering.
SKILLS:
You will learn new skills for work and life, such as teamwork, social skills and building confidence.
---
St Lawrence Café
Our friendly café in Suffolk, provides real jobs in a cafe setting, based on an individual's abilities. Start at a level right for you, build confidence to gain new skills.
THINGS YOU CAN DO:
Cooking
Waiting
Washing up
Operate the till
Meet and greet
Make drinks
Clearing tables
Preparing food
Barista training
Sandwich round
St Lawrence Café, Dial Lane, Ipswich, IP1 1DJ
Tel: 01473 242500
Email: RFWorks@realisefutures.org
Keeping 'social' in our communities
If it's coffee and a cake – and a welcome break from shopping – that you'd prefer, you can find a very warm and friendly welcome in our café run by Realise Futures in Ipswich.
Our café is in truly unique venue. The historic St Lawrence Cafe has incredible acoustics and the country's oldest working church bells – this venue can cater for every need.
---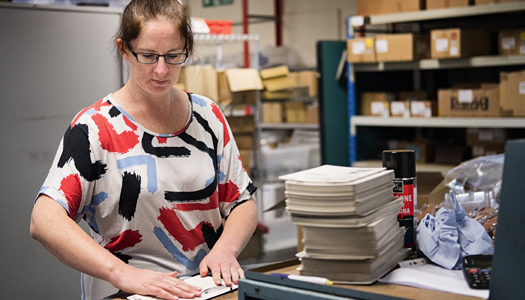 Fulfilment
Bury St Edmunds: 01284 749030
Melton: 01394 389599
Ipswich: 01473 242500
Email: RFWorks@realisefutures.org
Fulfilment
We get it packed, wrapped and dispatched – offering people a variety of jobs to suit their abilities, including folding, counting, assembling cartons and labelling , with easy to follow guides.
THINGS YOU CAN DO:
Packing
Folding
Counting
Assembling cartons
Labelling
Teamwork
Stock-take
Heat sealing
Blister packing
Shrink wrapping
Hand packing
It works for you
Companies use our fulfilment services because of the quality and delivery of the service and price – and because they appreciate and understand the social impact of placing the business with a social enterprise where they are helping their local community.
We pack and wrap thousands of items for major high street brands as well as local companies, and we handle a large range of different products from plastic dog bones which are shipped all over the world to cosmetics that are sold in shops throughout the UK.
Call us today on 01473 242500 or simply contact us and someone will be in touch.
---
Eco Furniture
Making plastic fantastic – turning plastic into furniture, from benches to pirate ships. Gain new skills within a team environment, from measuring to cutting and drilling, to creating furniture fit for customer use.
THINGS YOU CAN DO:
Measure and identify materials
Cutting and drilling
Understand manufacturer drawings
Use hand tools
Sales
Customer service
Administration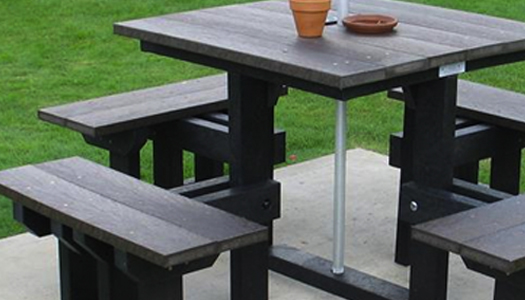 Eco Furniture, Ipswich
Tel: 01473 242500
Email: RFWorks@realisefutures.org
Website: www.realisefuturesecofurniture.co.uk
We make 100% recycled plastic outdoor furniture and play equipment that is long lasting, splinter free, weather proof, and graffiti proof and anti-theft proof.
We will work with you from concept right through to design, manufacture and installation.
---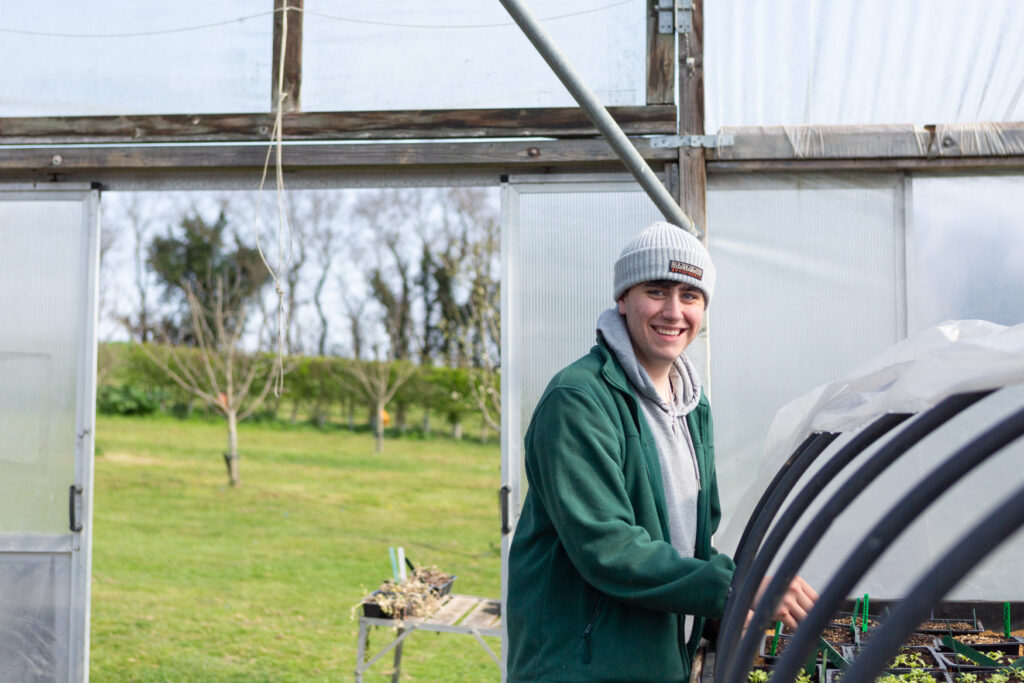 Growing Places, Claydon
Tel: 01473 831224
Email: RFWorks@realisefutures.org

Growing Places
Discover the benefits of gardening and working in horticulture. Learn about nature, growing and gain social skills from teamwork. Support us by ordering your veg box and more here.
Things you can do:
Sowing, planting and harvesting
Digging and site maintenance
Weeding and watering
Packing produce and deliveries
Woodwork, willow weaving and craft
At Growing Places, every activity provides purpose and an opportunity to develop. Our team grow produce all year round, get creative with scrap wood and locally harvested willow, and tackle all the other jobs needed to run our 2-acre site.
Complemented by our homegrown produce, our Box of Veg service offers weekly fruit and vegetable deliveries across the Ipswich and Stowmarket areas, connecting the team to the local community.
Ordering your veg box is easy, take a look at our main page to find out more.
---
Nowton Park Nursery
Discover the benefits of gardening and improved wellbeing at Nowton Park Nursery. Situated in the Victorian walled garden within Nowton Park, Bury St. Edmunds, here we grow a wide range of plants and run a small-scale fulfilment area.
Things you can do:
Sowing seeds
Site maintenance – weeding, mowing, rotavating
Trimming and deadheading plants
Selling plants
Cooking sessions
Counting, labelling, weighing and packaging
Working within a team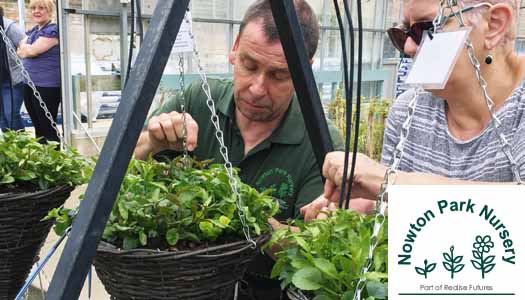 Nowton Park Nursery, Bury St Edmunds
Tel: 01284 749030
Email: nowtonparknursery@realisefutures.org
At Nowton Park Nursery, we grow a colourful array of plants to buy, including perennials, seasonal basket plants and hanging baskets to brighten up any garden. Look out for our seasonal trailer by The Grounds Café in Nowton Park.
We also provide a small-scale fulfilment area where team members sort and package items for local businesses. We pride ourselves on high quality at Nowton Park Nursery by working as a team and offering our team members a variety of jobs dependent on their abilities.
---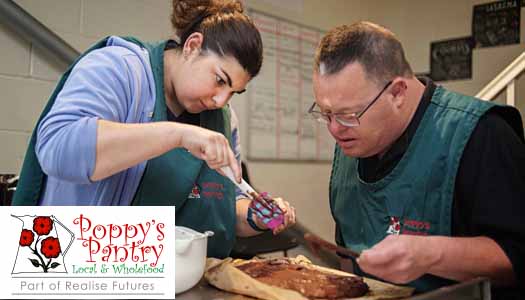 Poppy's Pantry, Melton
Tel: 01394 389599
Email: RFWorks@realisefutures.org
Poppy's Pantry
More than just a shop
Visit our click and collect online shop: www.poppyspantryshop.co.uk
Offering a whole range of work based opportunities in a friendly and supportive retail environment.
THINGS YOU CAN DO:
Work in the shop
Cooking
Packing/labelling
Prepare snack boxes
Cleaning
Delivery
Re-stock shelves
Teamwork
Local and wholefoods shop
We offer vegetarian and vegan produce, as well as gluten-free, wheat-free and dairy-free products. We sell healthy snacks, nuts, seeds and dried fruit, as well as local fruit and vegetables and free range eggs.
Helping the environment, we sell eco-friendly household products.
Every Tuesday, we run a pop-up community coffee shop in St Mary's Church Centre, Woodbridge. Selling hot and cold drinks, delicious homemade cakes and light lunches, the cafe is the ideal place to get together and meet other people in the community.
---