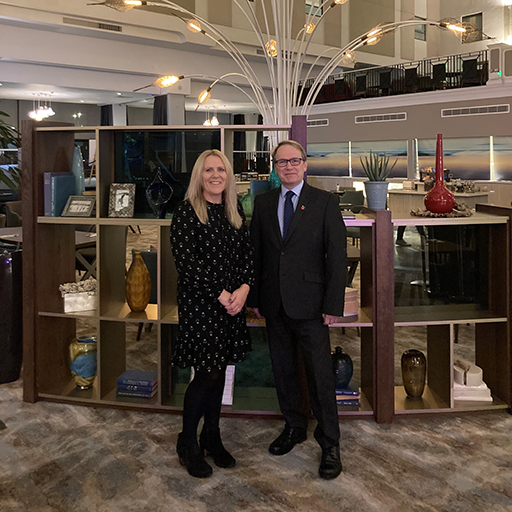 Realise Futures Employee Wins Prestigious National Award
Suffolk and Essex based disability employment provider, Realise Futures are proud to announce that Neil Bowman, an employment advisor working with the company, has been awarded Practitioner of the Year Award at the British Association for Supported Employment (BASE) award ceremony held in Brighton on 9th November.
The award ceremony recognises best practice in supporting disability employment, support services and individual job coaches. The awards were attended by over 200 people as part of the annual BASE conference.
Neil has worked for Realise Futures since 2015 as a member of the Employment team and has had a successful career in supporting participants in government programmes, often with learning difficulties, autistic spectrum disorders and other disabilities to find work. Neil has consistently exceeded his targets, even through the lockdown periods, where he secured 31 jobs for his participants in the past year.
Neil's nomination for the award was submitted by the parent of a 22-year-old called Thomas, who has a range of complex neurological development issues. Thomas' mother wrote in praise of Neil's support of her son, commenting on how Neil has investigated every opportunity in order to secure Thomas work, including his network of business contacts, use of social media, the Princes Trust and local MP's. Despite an unsuccessful interview with an accountancy firm, Neil's continued support and enabled Thomas to obtain an unpaid internship with the company to help him to gain additional experience, and as a result of this, Thomas was then offered a full-time position, which he started in January 2021.
Melanie Hercus, Operations Manager for Realise Future's Employment department said: 'Neil is a fantastic Employment Advisor who always puts his participants first and gets some great job outcomes, so I'm extremely pleased this has been recognised at a national level. I am really proud of the work Neil and the Essex Supported Employment Service do every day to make such a difference to people's lives.'
Neil said: 'It's a great honour to have received this award at such a prestigious event. This award is really a recognition of all the great work Realise Futures are doing across Suffolk and in my own area of Essex where we deliver the Essex Supported Employment service for Essex County Council. The pleasure and job satisfaction that we all get from supporting, encouraging, and seeing individuals grow and achieve their potential and goals makes this a truly rewarding job and what a real difference a call /text or visit. thought or deed can make to and change a person's life. The real winners are those customers who have fought against barriers and obstacles to achieve with the right support their goals and objectives in 2021'.
Realise Futures provides and delivers services for people with disabilities and/or disadvantages through its six businesses in Suffolk specialising in horticulture, vegetable box deliveries, wholefoods, fulfilment, cafes, and furniture making from recycled plastic.
All the company's profits are re-invested into the business to provide more work opportunities for people with disabilities.
Photos Taken by: Realise Futures' Employment Operations Manager, Mel Hercus
Photos by Realise Futures and free to use.